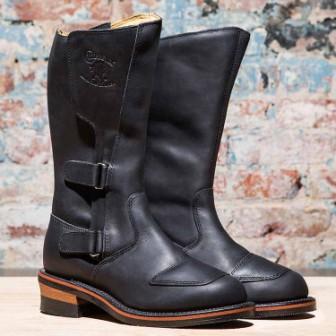 Chippewa Motorcycle Boots are handcrafted in the USA. The great range of tall modern boots takes on a classic style. They are crafted with leather and lined with Maple Calf leather for both extreme durability and comfort while on the road. The comfortable closures help you get the perfect fit and sleek style. The style blended with high comfort makes Chippewa boots motorcyclist favorite. Buy your pair of Chippewa Motorcycle Boots today!

Chippewa Motorcycle Boots Types: Rally, Police, Bomber, Trooper, Engineer, Combat and more in all sizes.
Chippewa Motorcycle Boots with Steel Toe, Square Toe, Laces, Zipper, Harness, Buckle, Kneehigh and more variety.
Color Available: Black, Brown, Tan